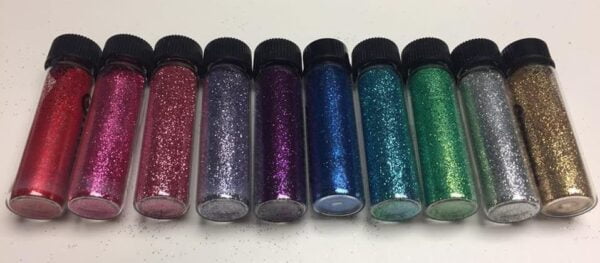 BioGlitter – Single Vials (4g)
$10.00
Description
Additional information
Description
This glitter looks and acts exactly like regular cosmetic glitter, while being safer for you and the environment. BioGlitter feels more comfortable on the skin, as it is actually slightly softer than polyester glitter! The size of the particles is is 0.008″ or 200 microns, which is finer than standard craft glitter.
Most commercially available glitters are based on PET (plastic) film and are not biodegradable, leaching into our eco system and the bellies of marine animals, into our food chain. Microbeads are being outlawed in various countries and PET glitter is not far behind. BioGlitter is based on a biodegradable film that is certified compostable, breaking down in the waste water system.
BioGlitter is based on biodegradable film made from trees, primarily eucalyptus, sourced from responsibly managed plantations, and does not contain genetically modified materials.
BioGlitter offers the same precision cut and highly reflective properties as a conventional glitter, and will NOT break down on the shelf or on your skin!
Certified as industrial and home compostable
Marine and waste water biodegradable
Renewably sourced
Non GM materials
Highly reflective and precision cut
Suited for use in dry, water-based and oil-based applications
Cosmetic approved, meeting the requirements of EC Regulation 1223/2009 for applications in the Cosmetic industry.
Additional information
| | |
| --- | --- |
| Glitter Colours | RED, HOT PINK, BLUSH PINK, LAVENDER, DEEP PURPLE, ROYAL BLUE, TURQUOISE, BRIGHT GREEN, SILVER, GOLD, CHUNKY SILVER, CHUNKY GOLD |