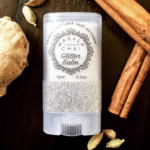 BIO-GLITTER BALM
$15.00
These handmade balms contain rich cocoa butter, yummy essential oils and BIODEGRADABLE GLITTER! The adorable mini-deodorant style containers mean there's no mess when applying. 🙂
Description
Additional information
Description
These handmade balms contain rich cocoa butter, yummy essential oils and BIODEGRADABLE GLITTER! The adorable mini-deodorant style containers mean there's no mess when applying.
Each Glitter Balm is 15ml.
Choose from the following options:
– Vanilla Princess Jasmine (gold)
– Masala Chai Goddess (silver)
Handmade by Laura Selenzi
"I developed Glitter Balm as a way to apply glitter without all the mess (or using toxic ingredients). I also love to use natural oils & butters to nourish my skin, and have recently become obsessed with the incredible benefits of essential oils. The Shea and Cocoa Butter are all-natural and raw. I use cosmetic grade BioGlitter. These little push-pops of goodness moisturize while making your skin sparkle and shine! The essential oils add a lovely aromatherapy boost."
Vanilla 'Princess' Jasmine (gold)
The combined natural scent of Shea and Cocoa butter combine with delicious Vanilla and Jasmine to make this balm smell a bit like candy! Jasmine and Vanilla are known for their ability to relax, relieve anxiety and stress, enhance feelings of sensuality and improve your mood. Perfect for a performance.
Masala Goddess Chai (silver)
I am admittedly obsessed with all things Chai (I got dangerously hooked when I was in India) so this is my newest creation! Scented with essential oils of Ceylon Cinnamon, Clove, Ginger, Cardamom and Vanilla*. These oils together are said to reduce nausea, relieve PMS, increase energy, reduce stress, stimulate the libido and ease depression! Whew!
Ingredients:
Cetyl Alcohol  (derived from vegetable oils, thickener, helps with adherance)
Beeswax  (all-natural, helps with adherence, waterproof, keeps the balm from melting too easily)
Cocoa Butter  (skin-conditioning goodness)
Rice Bran Oil  (moisturizing, soothing, non-greasy oil)
BioGlitter  (for SPARKLE!)
Essential Oils  (To make you smell like a goddess)
Additional information
| | |
| --- | --- |
| Color | Lavender Sparkle Pony (light purple), Masala Chai Goddess (silver), Minty Mermaid (blue), Vanilla Princess Jasmine (gold) |