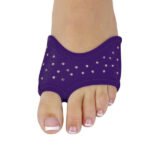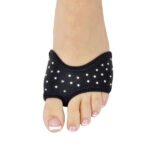 Danshuz – Half-Sole Dance Shoes
$30.00
Description
We are obsessed with these! Perfect for class, they allow you to safely and comfortably twist and pivot without sacrificing grip.
Adds protection and comfort
Neoprene fabric ensures a secure fit and provides padded comfort
Double stitched suede sole patch for smooth turns
Stitched binding for maximum durability
Easily slips on and off without uncomfortable straps between the toes
*Fitting: S (2 1/2 – 6), M (6 – 8), L (8 1/2  –  11), XL (11 1/2 – 13)
Certain  sizes and colours may not be available. Please contact us at info@serpentinestudios.com to check stock.