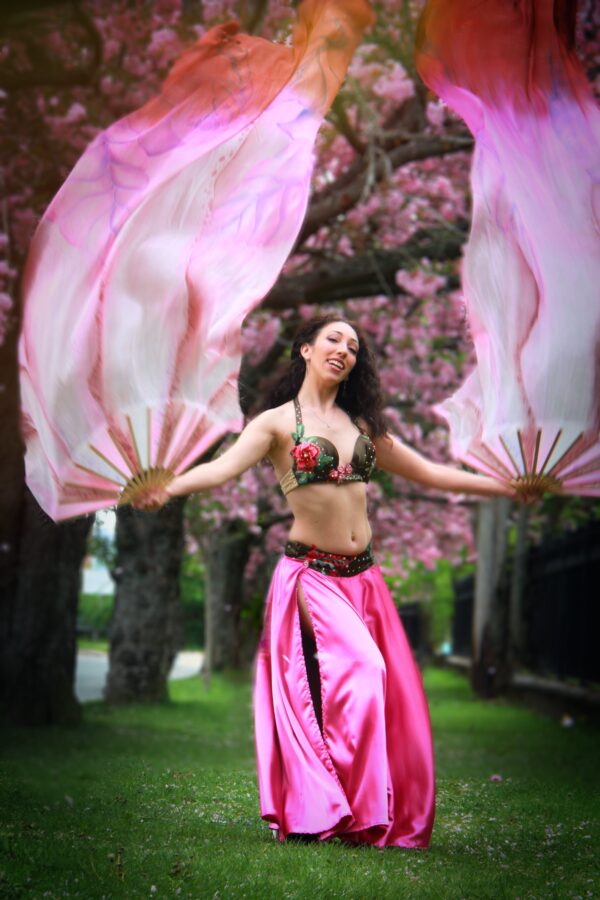 Summer Bellydance Workshops
$20.00 – $40.00
Join Laura Selenzi for some fun Bellydance workshops this Summer!
Held on Wednesdays at Halifax Dance, 1505 Barrington St (Lobby Level).
June 29th
6:30pm-7:30pm: Intro to Bellydance Veil
7:30pm-8:30pm: Advanced Bellydance Veil
Veils can be used to create drama, excitement, emotion and to express music that seems to call for something bigger than the body alone can create. Technique and combos will be taught. Bring a veil if possible, some will be available to borrow as well.
July 20th
6:30pm-8:30pm: Intro to Bellydance
In this fun workshop Laura will introduce the foundation movements of Bellydance, and learn a short combo designed to build your confidence as a dancer.
August 3rd
7:30pm-8:30pm: Shimmies and Arms
This class focuses on strengthening our shimmies and arm styling. We will start by breaking down our various shimmies, then a fun and challenging shimmy drill, and polish clean, strong arm technique, using creative arm movements to create beautiful framing.
Be sure to select the correct workshop out of the options below:
Description
Additional information
Description
By purchasing this product, you confirm that you have read, understand, and agree to the information below, and to and the policies set forth by Serpentine Studios; and that you are of legal age.
Refund policy:
There are no refunds on classes unless there is an emergency medical situation. However, we want you to be happy with your purchase so please discuss any issues or concerns with us and we will do everything we can to try and find a solution.
Class Cancellations:
If Covid-related restrictions or risk factors increase, we will contact all students to discuss any changes necessary.

  

We may need to delay in-person classes, bumping the dates forward. If that is not a possible solution we may instead provide a virtual solution; or provide credits/refunds if neither are possible.
In the case of unforeseen class cancellations, we will make all efforts to contact you. It is important that we have your updated phone number and email address for this reason. A class will either be added to the end of your session, or you will receive a virtual make-up class, or credit for one extra class if neither are possible.
If there is a snowstorm or other bad weather event, please check your email, our Instagram, or the 

Facebook Community Group

 to find out if classes are running, as we are not always able to reach all students.
Class Policies:
– Please review our 

Covid-19 Policies

. To summarize, do not come to class if you have symptoms or are a close contact of a confirmed case, sanitize your hands when you come in, and wear your mask in all common areas until you are in "your spot" and ready to dance.
– Please arrive 5 minutes before your class begins.  Please do not arrive early to avoid crowding the previous classes students. If you are late for your class, please warm up first before joining in.
– Please remove your outdoor shoes at the studio door and leave them in the mat.
– Bring your own water bottle and don't forget to take it home with you! 😉 We recommend writing your name on it.
– We ask that you do not invite spectators watch the class as the other students may feel uncomfortable with this.
– Please turn off or silence your cell phones during class.
– If something hurts, stop! Let us know and we can help you figure out what's wrong. Often making the movement smaller or checking your alignment can solve the issue.
– Please avoid chatting when the teacher is talking. We want you to get the full benefit of our instruction so please do not disrupt the class for yourself or others.
– If a student is struggling with a move we ask that you do not try and teach them yourself. Let us do our thing and we will coach the student. Feel free to ask a question or call us over!
– Please be sure to double check that you have everything before you leave and take all your belongings with you. Water bottles and items of clothing are the most frequently forgotten.
– Come with a positive attitude, patience and kindness to yourself and others. Saying "can't" is forbidden… unless you add a "yet!" on the end of it! : )
Additional information
| | |
| --- | --- |
| Workshop | June 29th: Intro to Bellydance Veil, June 29th: Advanced Bellydance Veil, July 20th: Intro to Bellydance, August 3rd: Shimmies and Arms |